Cut & Sew Contracts
Bestwork has been competing in the areas of manufacturing contracts since 1981. In those years, our growth has been fueled by our commitment to providing real value to our customers. By embracing lean manufacturing, ISO quality management systems, and new technology, we are able to empower our employees to increase production, reduce costs, and be competitive in any environment. We are proud that Bestwork has earned a reputation for detailed workmanship and on-time delivery.
Our Products
Military Clothing & Accessories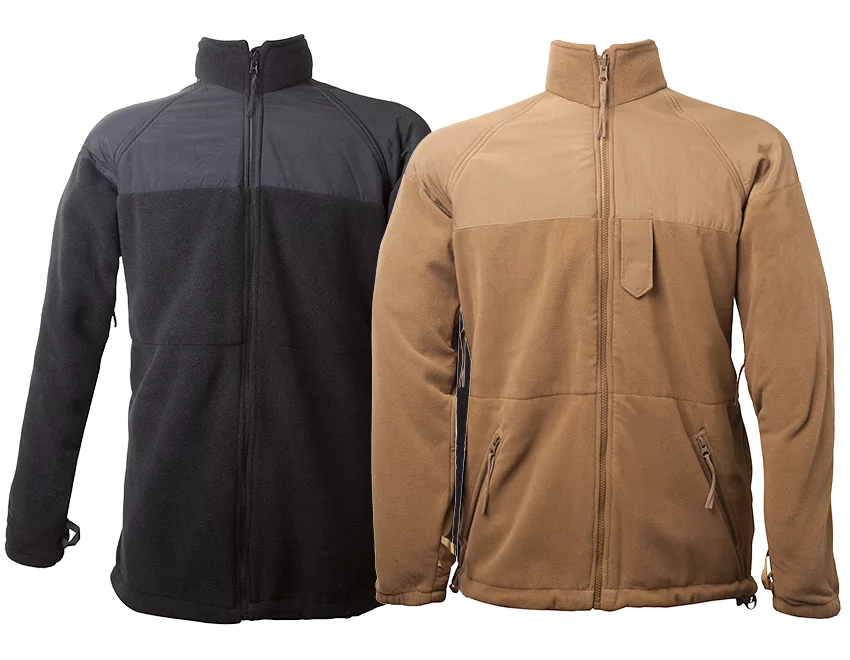 Navy Parka Liner (Legacy Black and New Version In Black and Coyote)
We manufacture two versions of the Navy Parka Liner – the Legacy Black and a new, updated style offered in both black and coyote brown. Both options offer detachable fleece liners that provide extra comfort and protection during extremely cold conditions. The Legacy Black version makes for a great mid-layer to be worn under the Navy Cold Weather Parka, while the new liner is authorized to be worn as a stand-alone outer garment as it is styled with two outer front pockets and a rank tab.
Extreme Cold Weather Clothing System (ECWCS) Undershirt
Designed with light insulation to fight chill, the Gen-III ECWCS Level-2 Top provides the best in cold protection. Designed with an interior grid fleece pattern, this top has superior breathability and moisture wicking properties. It is also has Microban antimicrobial properties built into the fabric, which prevents odor-causing bacteria from growing. The zip-through collar can zip up to form a turtleneck, while thumb holes at the cuffs keep the sleeves pulled down and helps keep your hands warm. Thanks to the durable flat locked construction, this shirt will keep you comfortable and protected. Pair it with other Extreme Cold Weather Clothing System (ECWCS) garments to create additional warmth.
Army FREE T-Shirt
Bestwork manufacturers the Flame Resistant Environmental Ensemble (FREE) t-shirt for the U.S. Army. The FREE system is a multilayered, versatile, flame resistant system, where its unique individual layers are adaptable into multiple system configurations. This flexibility allows the soldier greater uniform/personal protection choices, which are critical in responding to the current engagement threats while facing extreme climate conditions. All layers of the FREE system incorporate flame resistant technologies to offer protection and comfort.
Navy Fitness Suit Pants
The unisex Fitness Suit Pants are Navy Blue in color, water repellent, and made of nylon fabric that offers moisture management and anti-microbial/odor resistant performance features. The pants have gold color heat transfer "NAVY" logo and are trimmed with silver reflective piping. The pants are designed primarily for group/unit physical training activities and the semi-annual physical readiness test that involve standing, running, and exercises on non-abrasive surfaces.
FR-Flight Deck Jersey
The Fire-Retardant Flight Deck Jersey takes protection, durability and comfort to a whole new level. With its permanent flame protection, it will keep wearers safe. The Inherent moisture wicking and fast-drying capabilities plus odor control keeps you dry and comfortable so that you can focus on your work – it's the garment you'll want to wear day in and day out. Offered in seven colors: white, yellow, green, red, royal blue, brown, and purple, the high-performance Military apparel is made in the US, Berry Amendment compliant.
Army Moisture Wicking T-Shirts
The DLA Troop Support short-sleeve moisture wicking t-shirt is 100% polyester and is authorized for wear with the Operational Camouflage Pattern Army Combat Uniform, when also wearing the Coyote Army Combat Boot and Tan 499 rigger belt. Its excellent moisture-wicking properties help keep you cool, dry and ready for anything.
Flyers Aramid Undershirt and Drawers
Made of 100% Aramid, Flame Resistant, material, these vintage thermals are part of the Extreme Cold Weather system used before silkweight and grid fleece midweight. The grid knit style is similar to traditional civilian thermals. Wearers of the garment can trust that if exposed to flames, they will be safe as the material will not catch fire.
U.S. Navy Neckerchief
Bestwork manufactures the U.S. Navy Neckerchief using heavy mil spec material, to ensure proper look and longevity. This is the Regulation US Navy Neckerchief that is worn with U.S. Navy dress blues and dress whites uniform for personnel who work in the Navy from Recruits to Petty Officer First Class.
Tool Bag
Olive Drab, 20-1/4″ L x 10-1/8″ W, IAW Natick Drawing number 5-3-62. These tool bags are for use when you can't bring the full mobile tool cabinet to the job. It's perfect for a few tools and parts.
Fire Resistant ANSI Compliant Safety Vest – Class 2
ANSI FR rated safety vest ensures that you are highly visible in a variety of complex backgrounds. This Class 2 safety vest is made of fluorescent lime Modacrylic flame resistant material with a hook and loop front closure. Modacrylic flame resistant background material meets ASTM D6413 and ASTM F1506 standards for fire resistance and ASTM F1959-05 for ARC rating. With 2″ 3M Scotchlite™ reflective stripes, the ANSI FR Vest is available in large and x-large, is machine washable, and is ANSI 107 and TAA Compliant. The Fabric is inherently fire resistant and not chemically treated. It features two large lower pockets, subdivided to create six storage pockets and six pen pockets.
ANSI Compliant Safety Vest – Class 2 – Non FR rated
Our Ansi Compliant Class 2 Vest (non FR rated) is intended for working environments that pose a high risk. An ANSI Class 2 safety vest is designed to be worn on or near roads where traffic is moving under 50 mph. These vests are larger than their class 1 counterparts because they require more high visibility and reflective areas to be present. A Class 2 vest must have at least 775 inches of safety yellow or safety orange background material and 201 square inches of reflective striping. These ANSI safety vests are commonly worn by survey crews, airport baggage handlers, and school crossing guards.
High Visibility Safety Vest (Non-ANSI)
High-visibility safety apparel is needed if you work when there is low light and poor visibility, especially if you are working around moving vehicles including cars, trucks and other machinery traveling under their own power like forklifts, backhoes, etc. High-visibility items allow you to be seen by the drivers of those vehicles sooner and more readily. This fact increases your safety at work. The human eye responds best to large, contrasting, bright or moving objects. Worker visibility is enhanced by high color contrast between clothing and the work environment against which it is seen.
High Visibility Non-ANSI Helmet, Arm & Leg Bands
These non-ANSI bands are an easy way to enhance worker visibility and safety. Fastens to itself with Velcro® and easily wraps around helmet, arm or leg.
Polishing/Wiping Cloths & Laundry Nets
Polishing Cloth (17″ x 21″)
Soft scratch-free cloth polishes and dusts surfaces such as glass, acrylic, metal, chrome, wood, paint, auto interior and exterior, office equipment, furniture and more. 100% white cotton flannel cloth is washable and reusable and features bound edges and a soft finish. Both sides are lightly napped.
Machinery Wiping Towels (16-1/2″ x 18″)
Clean machinery and mechanical components with this plain-weave cotton cloth, with finished edges. Reusable after laundering, towel is bleached or unbleached as available. Weighs 4.5 ounces per square yard.
Industrial Wiping Towels (13-1/2″ x 16-1/2″)
Available in white or natural, this industrial wiping towel is 93 percent biodegradable. Multi-ply towel is reinforced with nylon fibers, making it suitable for cleaning up oil and water. Each banded package holds 100 towels. Each box contains 10 packages of 100 for a total of 1,000 towels. Disposable wiping towel for cleaning, polishing, and wiping surfaces that are wet, dry or oily. Not intended for use on transparent plastic.
Laundry Nets (Grommet Closure)
1) White, 24″ W x 36″ L – nylon laundry net features two brass grommets at the top that can be joined together by Laundry Pin NSN 3510-00-222-1457 (sold separately)
2) White, 12″ W x 22″ L – nylon laundry net features two brass grommets at the top that can be joined together by Laundry Pin NSN 3510-00-222-1457 (sold separately)
Nitrile
Bestwork's Nitrile examination gloves are carefully manufactured from unique formulations to provide superior material softness for outstanding comfort, durability, tensile strength, and elasticity. 100% latex free, our advanced nitrile exam gloves offer exceptional protection and resistance to chemicals, punctures, abrasions, oils, and temperature extremes when compared to latex or vinyl gloves. Our nitrile exam gloves feature an ambidextrous fit with beaded cuffs for easy donning. They meet or exceed all industry standards for safety and quality.
Vinyl/Synthetic
Bestwork's disposable vinyl and synthetic examination gloves offer a high-quality, value-based alternative to latex, providing a comfortable fit and effective barrier protection for those concerned about latex exposure.
Polyethylene Food Service
Disposable, food service, 1 mil, medium, clear (master case of 10000). Best use for food service and food handling. Powder-free glove leaves no residue, reducing the risk of contamination compared to a powdered glove. Embossed on the fingertips, fingers, and palm for improved grip. Polyethylene for single use and frequent glove changes. Made from component materials that comply with FDA regulations for food contact (21CFR, 170–199).
commercial sewing
Bestwork Industries for the Blind, Inc. has over 100 industrial sewing machines and can manufacture any product for your company. Just give us a chance to quote. Our satisfied customers include True North and Northern Outfitters.
Contact Us
Please contact us for detailed information about any of these products and services or if you would like to discuss your particular needs.